Our Client List
We serve small businesses to large international corporations, and we welcome companies, organizations and projects of all sizes and budgets.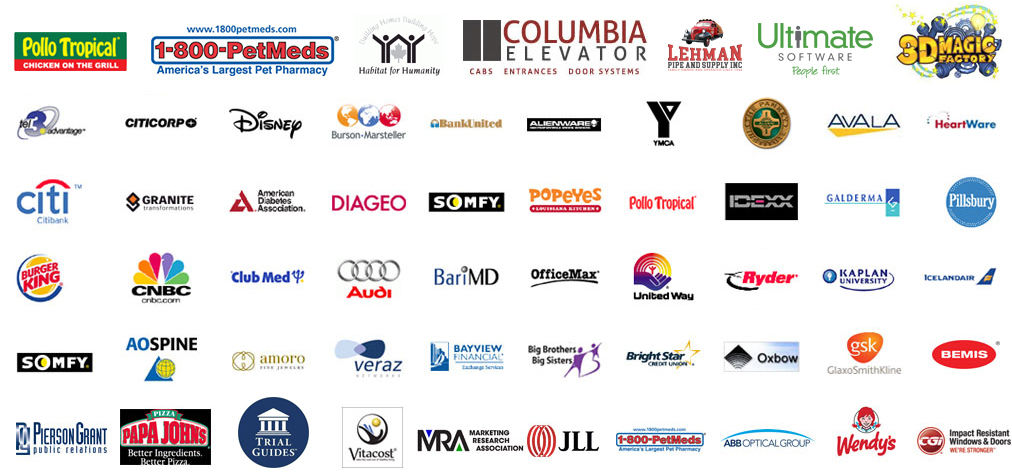 Burger King Corporation
Pollo Tropical
Club Med
GlaxoSmithKline
Citicorp Latin America
Citibank
Disney Corporation
Audi Corporation
The United Way
Pillsbury Corporation
CNBC - World Business
Phoenix Mutual Life Insurance
Ryder TRS
GE Healthcare (Division of General Electric)
TBC Corporation / Tire Kingdom
Burson-Marsteller Public Relations/Public Affairs
OfficeMax
Nature's Bounty (NBTY)
EasterSeals
Popeyes Louisiana Kitchen
Clark Integrated Marketing Communication
TCG Phone Company
Diageo, PLC
Oxbow Carbon
Icelandair
Law Offices of Dan Newlin
SMGD Law
Marine Industry Association
Dedlock Partners
Amco
EMD Serono
Kohler
The Marketing Research Association
AOSpine
Azopharma
Amoro Fine Jewelry
MarineMax
AgencyEA
Roland DGA
ARG
The Avala Marketing Group
Contrast Creative
Georgia Golf Hall of Fame
D&G Creative Concepts, Inc.
The Catalyst Foundation
Electric Boat Submarine Base
Latz Negotiation Institute, Inc.
Accela Communications
Habitat For Humanity
The American Cancer Society
Ad-Vantage Media
Hammersmiths Auctioneers, Inc.
Paint1 USA
Amplify
(ISC)², Inc. 
Marshall Media
The Federalist Society
Communities In Schools
Kate Bohner Productions (KBTV)
Friends for Life (TV show)
More Power To You (TV show)
The Rose Lee Archer Show
P.M. Magazine (TV show)
PUSH Media LLC (TV show)
Kavanagh Productions
Aspen Research, Inc.
Palm Beach Shores & Nursing
Southern Audio Visual, Inc.
BrightStar Credit Union
Atwater Creative
Companion Genomics
KinderMusik
Zero Gravity
Catalogs.com
Hoerbiger Corporation
Wireless Broadband Alliance
Law Offices of Dan Newlin & Partners
4G Recycling, Inc. 
Red Bull Media House (part of Red Bull)
Ultimate Software
3D Magic Factory
Gemini Medspa
Aero Design Labs
Aerospace Resource Group
AVFuel Corporation
Papa John's
ALSIUS Corporation
BankUnited
Bain Capital, LLC
Nikita Hair Salon
Ultimate Software
Plum Media
NETEL, INC.
Navis Pictures LLC
Liberty Mutual
Elite Aluminum, Inc.
TEL3Advantage
FORTS USA
Acqua Communications
Center For Effective Communication
World Communications Link, Inc.
Strategic Training & Consulting Inc.
Bright Light USA
Convergys
Krames Staywell
Robertson Fuel Systems
ichameleon Group, Inc.
Excel Media Corporation
Red Thread Productions
SPX Corporation
Bemis Manufacturing Company
Paraclete Press
Lehman Pipe and Plumbing Supply
a la Mode
McGladrey LLP
Incite Advertising
Moore & Scarry Advertising
Big Brothers Big Sisters of America
Kerzner International
Bayview Financial L.P.
Billboard
Kaplan University
Rocksolid Granite USA Inc.
United Distilleries
Specialty Medical Supplies
Neuro-Autonomic Testing Systems
JDL Technologies
Vericor
Coconut Grove Playhouse
The Beacon Council
Triple-A-Fitness & Aerobics
Alienware
Marky's Imports Aqua Farms
Broward Schools Credit Union
The Glass Page LTD, England
Florida's Singing Sons Boychoir
Genesis Christian Center, Inc.
Coral Springs Worship Center
Florida Department of Agriculture
YMCA of Broward County
Kolb Syverson Communications
The SpeedStick®
Bill Levy Productions
4 Target Marketing Solutions Inc.
IDEXX Laboratories
Articulate (E-Learning)
Strategic Profits
Somfy Systems, Inc.
BrandPharm
Twin Cities Public Television
Spang TV
Film 922
PRSM - Professional Retail Store Maintenance Assoc.
Unique Vacations, LTD
Jamaica Observer, Ltd
Core Studio
The Criterion Collection
Intel
Wendy's
Corner Bakery Cafe
BariMD
HeartWare International Inc.
Dairy Queen
VITAS
Galderma
Vitacost
PDx Biotech
U.S. Stem Cell Clinic
Robbins Research International
Identity Public Relations
Anesthesia Hygiene
Hilton Software LLC
Waterfield Enterprises
Jones Lang LaSalle USA
Clinical Diagnostics
The Fresh Diet
JAE Restaurant Group
Suncrest Supplies
Palm Beach Veterinary Specialty Hospital
Children of America
Baby Sleeps Safe, Inc.
The Foundation for Dental Laboratory Technology
National Association of Dental Laboratories
Pankey Dental Institute
Crohn's & Colitis Foundation of America
American Diabetes Association
Hope Pregnancy Center
Alliance Defending Freedom
Herzog Construction
Veraz Networks
Invnt
Inquesta Corporation
PV MultiMedia, Inc.
Advance Investment Co LTD
BizVid Communications
Domestic and Foreign Missionary Society
Episcopal Church of NY
DGVC
Watch House International
Florida Division of Emergency Management
Sales Activity Management, Inc.
The Chesapeake Fisherman Television Show
Image Studios, Inc.
Natixis Global Asset Management
Columbia Elevator
Animal VFX
Forerunner Ministries
Ted-TV
PetMed Express, Inc. (1-800-PedMeds®)
SEESCAN, INC.
CGI Windows & Doors
TriPoint Global Equities, LLC
Active Parenting Publishers
Armco
Global Media Desk
Fusion Robot Design
Pierson Grant Public Relations
ABB Optical Group
Clinical Diagnostic Solutions, Inc.
Northpoint Productions
PONGO
AV Homes, Inc
Audimation Services
Caseware Analytics
Tom Robison Photography
Boule Diagnostics
Virtuox, LLC
Pinkerton Corporate Risk Management
ERI Riviera Beach
i3 International Inc. 
Marcum Accountants & Advisors
Trial Guides
4G Recycling Inc.
Centner Acadamy