Should I Hire Video Production Staff for My Studio, Use Subcontractors,
or Outsource Everything?
By Greg Ball, President of Ball Media Innovations
In the previous article, we discussed the pros and cons of creating your own in-house studio. For this article, we'll assume that you've decided to go ahead and build a studio inside your company. Now you need to staff it and you'll want to know what the best, most cost-efficient way to handle this is.
I'm going to share some pros and cons that can help you make your decision. You'll notice that they're a bit slanted in one direction. After years of working within corporate video production studios as an in-house employee as well as a sub-contractor, I have a unique perspective. I'd love to know if you have other views. Please feel free to email me with your thoughts (see below).
The pros and cons of adding an in-house video production staff, a long-term subcontracted staff, or completely outsourcing
1. An in-house team may have in-depth knowledge of your company.
An in house team will have strong knowledge about your company, brand, products, and customers. Since they're part of your organization, they are privy to information that outside production people don't have. Also they have inside experience with the corporate culture.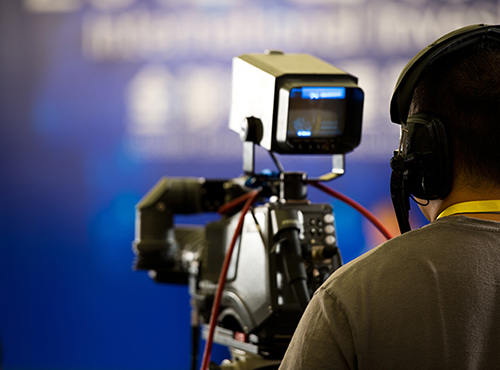 Keep in mind that a long-term sub-contracted team can also gain that kind of knowledge of your organization. Have them sign a confidentiality agreement and you have the ability to fully inform them.
2. It can be expensive to hire an in-house experienced and appropriate crew.
It takes years of training and some real talent to create videos that look professional and achieve the corporations' goals. Sure you can hire someone who's been creating wedding videos and the occasional business video, or someone who's fresh out of school. But you probably won't be happy with the videos they create.
Ideally, you'll want to hire very experienced people who not only have great technical skills but who can fit in well with your organization. Whoever you hire should have experience with using video for whatever your company needs them for. So for example, if they'll be producing training videos, they should have knowledge about how people learn and how to apply that to video. If they'll be creating marketing videos, they should have some marketing knowledge.
Obtaining experienced staff can be costly. Unfortunately, to get around the expense, many companies will assign the studio to staff members who are not trained video production professionals. I always like to say that everyone has two careers - whatever they do, and video production. Just because someone in the IT department shoots video with his iPhone, it doesn't make him a person to build a video department around.
Although it's true that most people can use a simple camera to record a video, it takes much more to create a professional quality video that meets your company's goals. Even if you build a great studio and edit suite, if nobody knows how to use it effectively, you won't get the results you're hoping for. Just because you own a gourmet oven at home, doesn't mean you can cook gourmet meals. It takes more than a facility and equipment.
When you assign the project to an existing employee rather than a video professional, it will take longer to complete the video project, and you'll most likely get less than professional results. At the same time, their "normal" job requirements may suffer.
There's a saying that reads "If you think it's expensive to hire a professional, wait until you hire an amateur".
This strategy of using someone without training ends up costing more in time and resources in the long run. When these people are being taken away from their "real" jobs to create a video, it means wages and time wasted for both the person tasked with creating the video and the team assigned to fix the problems. By using experienced video professionals, you allow your own employees to do what they were hired to do and you'll get better results.
Also, consider the true expense of putting out videos that look less than professional. This reflects on the quality of the products and services your company offers. It can lead to embarrassment within your company or in front of your customers.
Ultimately It's a huge waste of money and resources if you're putting out videos that don't achieve the results you had in mind. You may have a beautiful studio, but if you're not willing or able to staff it with experienced pros, you won't be happy.
3. Bringing in a long-term subcontracted crew saves money.
I've been a full-time independent video production contractor for large corporations, and it's worked out great! With a full-time contractor, the company has the advantage of hiring a professional video person or team to work on their projects, equipment, or in their facility on a day-to-day basis.
There are clear advantages to this.
First, you don't have to pay benefits. This is huge. You can choose the sub-contractors who have the right kind of experience you need, without having to commit to paying a full-time salary with benefits for it. Contractors are usually not eligible for health benefits or vacation pay. This can save the company money over hiring a full-time employee.
Some have business knowledge. Most contractors run their own business. That means they know how to use their experience, skills, and resources to run your video operation in a cost-effective manner. They tend to run your video operation as if it's an extension of their business. This can be a great advantage for you.
4. Outsourcing can bring in an infusion of creativity.
Sometimes getting fresh eyes on a project with an outside video production team can infuse some creativity into your videos. Often an in-house video department runs with a lean budget. That means there are never enough bodies to pump out a high quantity of videos in a timely fashion. Often they don't have the time to add creativity to the video. I've been there, and it usually involves cutting corners to get an "okay" video delivered.
By using an outside company with more resources, you can get your videos produced on time, and with the creativity, you're hoping for.
5. Outsourcing your staff & crew removes most of the learning curve.
As I mentioned, many companies are building their own studios, but staffing them by outsourcing. Some are outsourcing the studio and equipment as well. Either way, a professional staff should have the knowledge and experience available to consistently deliver great quality from the start.
A business-oriented video production company (rather than a wedding video company) will have worked on a wide variety of projects and should be able to bring new and fresh ideas to the table. They are not held back by corporate politics. If you pick the right people, they should know how to apply theory (marketing, training, etc.) to your video to get the results you need.
6. Outsourcing a crew gives you flexibility.
When you work with an independent contractor and it isn't a good fit, you simply don't renew their contract. When you have a full-time employee that doesn't work out, you may need to fire them, which isn't always easy for a number of reasons.
7. Outsourcing your crew (and even your studio and equipment) gets your deadlines and time frames met.
A quality professional video company knows that they will not be paid until the project is completed and you're happy with it. They'll do whatever it takes to get it done quickly and with great results. They can even bring additional resources in to get larger and/or multiple jobs done more quickly and in your time frame.
Since independent contractors are not full-time employees, you lose some control over how a video project will be executed day-to-day. Of course, you can always have an in-house manager to oversee the work, therefore maintaining control.
Conclusion:
I hope this blog has helped you determine whether outsourcing, hiring employees, or contracting is best for your organization.
Do you need help with staffing your in-house studio?
Feel free to give me a call. If you'd like to consider sub-contracting, Ball Media Innovations can handle all of your video production needs. We'd love to talk with you about it. Call us today. 
Are you looking at building an in-house studio?
Visit our Video Studio Design and Building Services website.
I can help you make the important decisions. And when you're ready to move forward, I and my team can work with you to design your customized studio based on your specific needs. We'll also work with your builders and architects. We'll build and equip your in-house studio, and train your staff to use it.
© Copyright 2022 Ball Media Innovations, Inc. All rights reserved. Any reproduction of the written contents or images on this website without prior written consent by Ball Media Innovations, Inc. will be prosecuted. This site is protected by Copyscape.
For details on the components of a Video Production studio visit Wiki's page.