By Greg Ball, President of Ball Media Innovations
Are you with a manufacturing company that needs an industrial video?
If yes, that's great! Industrial video productions should play a key role in a manufacturing company's overall marketing strategy. They can be used for everything from employee training to explaining a new production process, to supporting marketing and public relations efforts.
Regardless of how they're used, industrial videos must represent the quality of your company's brand and overall image. That's why when its time to plan for an industrial company focused video production, you need to call in the experts.
Not too long ago, direct mail was the go-to marketing tool when industrial and manufacturing companies were trying to increase sales. And while direct mail has significantly dropped off in use over the years, video marketing has become the marketing vehicle of choice. It should come as no surprise, considering that 87% of video marketers state that video provides a good ROI. And that's just for starters. 84% of video marketers claim that video has helped increase leads, and 78% of marketers state that video has helped to increase sales.
While industrial video production used to be on the lower rungs when it came to creativity, that is no longer the case. Today, you'll find that top manufacturing video production companies put a high level of creativity and production value into industrial video production. It's now on par with the creativity that they put into every other type of video they produce. But of course, that all depends on who you hire.
Using Professional Industrial Video Production Companies Produce the Best Results.
When it comes to industrial video production for manufacturing companies, you want to tap into the top production companies. Here's why: They have the people, the experience, and the equipment to deliver quality, creative videos. We're talking about using the same crews, cameras and editors who put together those award-winning videos you see on various creative platforms.
Here are 6 top qualities you need to look for to find an experienced video production company for your Industrial video production:
In-depth knowledge of business and manufacturing concepts. You want the best people working on your project. That includes writers, technicians and project managers who know how to create the most effective videos that produce results. When you hire an industrial video production company, you need a company that understands how to handle manufacturing concepts for video. This is true if you're looking to:

- Generate leads.
- Drive companies to your website to view additional videos.
- Present new processes or services that your company has introduced.
Knowledge on how to capture the best video footage of a working manufacturing plant. Getting the ideal footage and sound during the manufacturing process is not an easy task. This is especially true if you don't want to disrupt your business during the actual shoot. You'll want crew members that are highly experienced at shooting in working environments.
They can shoot anywhere, any time. Often, the manufacturing process involves plants that are in other cities or other countries. You want a production company that has access to national, and international crews who have the same level of experience, expertise, and creativity as the local crew you're working with.
They focus on unparalleled personal service. You want a company that goes out of their way to provide you with exceptional personal service. It's no secret as to why: they want you to hire them multiple times - and that only happens if they can exceed your expectations on every level. Yet there are many companies, especially in South Florida, that do not provide great service. It's important to check out the reputation before moving forward.

Ball Media on an Industrial Video Shoot
The production company can offer you a complete array of videos. You don't want to have to hire one company to do your marketing videos and then have to start hunting for a different company to produce your training videos or employee orientation videos. You want an industrial video production company that can do it all.
They understand marketing and public relations concepts for video. Creating effective marketing videos takes a lot of experience and creativity. You'll want a company with years of this under their belts, so to speak. The same is true of public relations. This is important if your company wants to start or continue sending out Video News Releases (VNR). It's also important if you wish to provide media training for senior employees and officers of your company. Make sure the Industrial video production company's directors have expertise and experience in this arena.
Try Some Out-of-the-Box Thinking for Industrial Video Production.
Sure, training videos and new manufacturing processes make up the standard videos available to most companies. But if you really want to put an industrial video production company to work, make sure you try some unique videos to promote your company.
For example, give prospective clients a video tour of your manufacturing plant. This will give a company a complete understanding of your company and its various processes. You can use them on your website or have them run in your booth at trade shows. The great thing about manufacturing plant video tours is that you can save tons of time and money. No longer will you need to pay travel costs to give a tour.
Don't just stop at the manufacturing process, provide a tour of your office and facility as well. This provides clients with an up close and personal look at your operation. Try placing the video on social media or use it on your website, too.
You can demonstrate your company's expertise in a particular manufacturing process.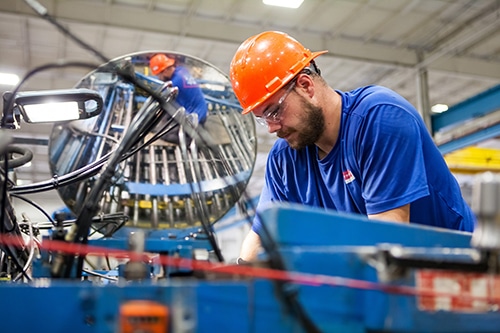 Do this by having an "ask the expert" video. You will always have some frequently asked questions, so consider having one of your senior personnel talk to prospective clients by answering those questions.
Another tactic is to have customer testimonial videos available on your website and in your trade show booth. Customers relate best to other customers and having these testimonial videos available is a good way to build goodwill.  Both videos can be an ongoing series.
Also, don't overlook event coverage. Promote any upcoming events, whether they are trade shows, conventions, meetings, or speakers that you bring in to give talks to employees or customers.
Looking for a great manufacturing video production company?
As you can see, industrial video production is a complex matrix of different elements that can support your business in a variety of ways. At Ball Media Innovations, we have in-depth experience working with manufacturing companies needed for a successful outcome. I'd be happy to share our experience with you, along with some of our success stories. I'd also be happy to provide you with a cost estimate, with no obligation of course! Visit here to learn more about our manufacturing and industrial video production company services. Or use the button below to contact us and get started.