Experience, Business Knowledge, Quality, Great Service...
We're a cutting edge Fort Lauderdale Video Production Company. We're knowledgeable, educated and experienced with business video. We know how to use that knowledge to produce successful corporate videos. Our clients include businesses of all sizes, and we can work within your budget.
Your Videos Will be Designed to Solve Your Business Challenges!
Our videos train employees and customers, market products, increase sales and brand businesses. We're also medical video experts. We do this all on a local and global basis with organizations of all sizes. When your video does what it was designed to do, we both succeed! We're transforming organizations with Our Fort Lauderdale Video Production Services!
OUR SERVICES
Ball Media Innovations is a full-service Fort Lauderdale video production company.
From concept to post-production and even translation, we do it all. We're the Fort Lauderdale video production company with the most marketing and training video experience, education and knowledge. No other Fort Lauderdale video production company can compare. We'll use all of that to help you reach your goals through your videos. Plus you can expect competitive pricing. We can work within most company budgets. Some types of videos we specialize in includes:
Take a look at some of our services in-depth:
Our clients have trusted us since 2002. Some of them are: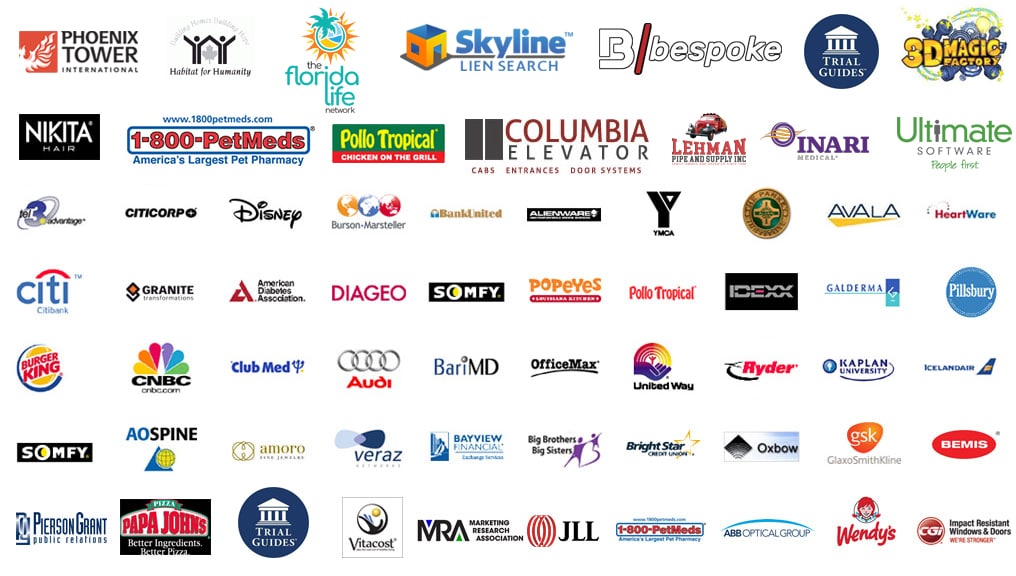 Our Clients Are Enthusiastic About Our Videos and Our Service!
If you're looking for the best video production in Fort Lauderdale, consider Ball Media. In the Fort Lauderdale area, companies with great customer service are far and few between, but at Ball Media, that's what we give you. For example, we're generally quick to respond to your calls or emails. Our clients receive Greg Ball, President of Ball Media's direct cell phone. You'll have easy access to us, and we keep you up to date on progress. See what some of our clients have to say about us.
"The professionalism they showed was unsurpassed. They were a delightful group of people to do business with. Ball Media far exceeded my expectations in all areas... They made me feel at ease, did everything professionally, and without any stress or attitude... I look forward to doing future media projects with Ball Media."

They are the people to go to if you need a video made. They will make your vision come alive.

I chose Ball Media Innovations because they gave a full explanation of what the process would entail, they promptly returned all my phone calls and emails, and had great demos of previous work. They listened to my needs and wants for this project and executed them to a "T".

I am impressed with the outcome and look forward to the next video."

"Greg and his team deliver a superior product at a value that can't be matched. Greg far exceeded my expectations with his professionalism and talent... He was able to pick up the project with little instruction and delivered exactly what we needed... I highly recommend Greg and Ball Media Innovations..."

"We had contacted several companies to bid our project, and Greg was by far the most thorough in his response and his rates were competitive. He brought to our awareness things we didn't think about, which made the project better than we were expecting. And in the end, Ball Media delivered a quality product."
CONTACT OUR FORT LAUDERDALE VIDEO PRODUCTION COMPANY NOW.
Whether you're looking for a website video, a social media video, an event video, a medical themed video, or anything else, we're happy to serve you. At Ball Media Innovations, we can do it all. We also have specialized crews. For example, we have crew members who are fantastic at shooting manufacturing videos, and we have medical oriented video production crews as well. All of our crew members are outstanding when it comes to Fort Lauderdale video production for business.
Where are we and where can we work? We're headquartered in Pembroke Pines, Florida which is right near Fort Lauderdale. We're comfortable with all of the venues and locations in the area. Whether you're looking for shooters in a Fort Lauderdale resort, at your work site, or you need a studio in the area, Ball Media is the best of Fort Lauderdale video production companies. From start to finish, your video will be professionally made.
Does it matter what your business produces? Not usually. We'll take the time to learn about your products or services. What's most important is that we understand the business and creative concepts that go behind creating great business videos. While it's a leg up on the process if we've worked on similar products, it's really not necessary.
On the other hand, there are some exceptions. For example, if you're in the restaurant or food industry, it's really helpful to have a crew that knows how to work within that environment. And we do! We know how to work within a working restaurant, and we know how to make food look good. We understand food industry and corporate standards, and our crews are all highly experienced within that environment.
Another exception would be if you're part of the medical community. Our medical specialty crews know how to work within that environment. Our artists and writers are comfortable with creating for the medical industry. We'll bring you great quality!
So if you're looking for Fort Lauderdale video production services, we'd be happy to share some ideas and discuss your project. There's no obligation and we'll give you a quote on your project. Let's get started!