By Greg Ball, President of Ball Media Innovations
Picking a Miami corporate video production company?
You've made the decision that it's time for your company or organization to create a corporate video. Congrats! You'll be adding a quality tool to your marketing arsenal. It can pay back dividends well beyond its initial cost. It doesn't matter if you've never developed a corporate video before. Or maybe you have, but you'd like to explore other video production companies. Your first step is to choose a Miami corporate video production company that can get the job done well.
With so many options, how do you choose a corporate video production company? There are some basic guidelines to help you make the right choice.
First and foremost, you don't want to simply hire a company with a crew that shoots videos. You want to hire a partner with video marketing or video training knowledge. That way you'll be able to benefit from their expertise and experience. All while ending up with a video that meets your specific needs. Your needs could include:
Increased sales
Enhanced brand recognition
Improved conversions
Effective training
Or many other options. Whatever your objectives, you'll want to increase your chances of meeting them. Plus, you'll want to end up with a long-term marketing partner for future needs.
Guide to picking a corporate video production company to create your videos
So, what are the guidelines that can help you make the right choice?
One way to approach the hiring process is to vet the production companies as you would a new employee. For example, you can ask questions such as the following: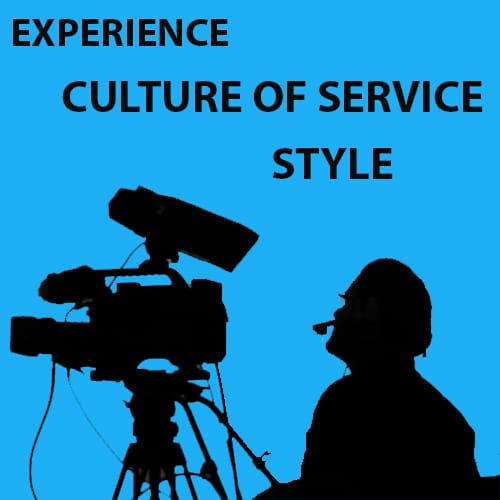 Do they have specific experience in creating corporate videos like the one you envision?
Is the company's "personality" and culture a good fit with yours? Particularly, do they have a culture of good service?
Do they have any demo videos that are styled similarly to the ones you'd like created?
Then ask yourself if their demo reels demonstrate quality production value. If you answered "yes," you're on the right track.
You'll also want to explore their production process. With our company, Ball Media, our clients can be as involved as much or as little as they'd prefer. So, you could ask a prospective company such as the following:
Will they will take your input and create a script or storyboard? Or will they tweak your script for video effectiveness?
How much involvement will they expect from you and your staff?
It's important to know in advance how much time will be involved in producing the video. You'll be able to determine if you're comfortable with their answers. As a result, their answers will help you narrow down your search.
Keep in mind that the better corporate video production companies have been doing this for a long time. Your video won't be their first rodeo. But you'll have grounds to make a choice by asking the above types of questions, along with many others. That's how you'll be able to compare production companies. Just remember that there is more to choosing a corporate video production company than timing and costs.
How to prepare for choosing a corporate video production company
Before you reach out to corporate video production companies, there are some steps you can take. They can help you prepare so that you're able to ask the right questions. Also you'll have the answers the companies should be looking for when they speak with you. This can help you prepare for the entire process of choosing a company.
First, you'll want to define your target audience. Who will be watching the video? Then you'll want to refine your message. Knowing exactly what you want to say to your audience is essential. You could even create a rough outline of a script, especially if you plan on writing it.
Then ask yourself questions such as whether or not you wish to show your product in use. Or whether you want to show how it's made. Most importantly, you'll want to define what differentiates your product from that of your competition.
Even if you plan to let the corporate video production company write the script, you'll want to write all of those answers down. The writer will need that information to develop an actual script and/or a storyboard.
What are the most important things to look for when choosing a company?
Here are the most important points to consider when choosing your corporate video production company: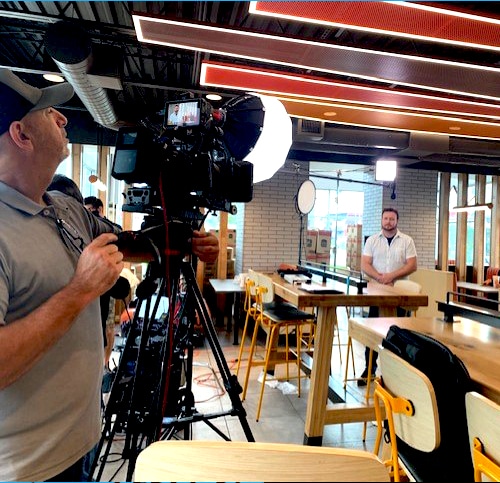 1. Business, training and event Experience and Knowledge should be a priority. 
Does the production company have the appropriate experience with the type of video you're planning to create? This will depend on the type of video you need. For example, do they have specific experience creating corporate videos? Or are they experienced creating employee training videos?
Look at their demo reel and view examples of corporate videos they've produced. You want to be sure they have the experience and knowledge to create the kind of video you're looking for. But keep in mind that it's not necessary for them to have made the exact same video that you need. It's more important that they understand the concepts that go into making effective videos.
2. Budget and Cost
Certainly, cost is a major part of your oversell decision-making process. It's always a good idea to have an idea of what you can afford to spend.  If you don't have a specific budget in mind, you could request a "ball park". This will give you a good sense of what the video may cost. The budget will be dependent on the length of the video, the complexity of the shoot, whether you use on-camera talent and multiple other factors. Read our article called "How Much Should My Video Cost?".
3. Who's Running the Show?

The person who will be your liaison to the corporate video production company is called the producer, or project manager. He or she will be the one you'll be working with you every step of the way. From the initial meetings to concept and script development, they will guide you. They'll also work with you on your budget. They may also work on the actual production. That's the key person you're going to depend on. Discuss their experience with corporate video production. In addition, ask which projects on the company's demo reel they managed.
4. What Other Questions Should You Ask?
When you hear your meeting with the producer, have some questions ready. Your job is to bring knowledge of your company, your brand, your audience, and the key objectives of the video. Their job is to provide costs, timeline, creativity, and experience. Ask to see videos like the one you envision, and whether they have any results they can share. Get an idea of the timeline. You might ask how many shooting days will they require at your company. Also, how much they expect you to be involved in the production. Discuss their resources. Can they deliver on time?
5. Are You Impressed by Their Work?
Creativity is subjective, so you might not think every video you see is exciting. But you want to feel good about what you're seeing when looking at a company's demo reel. If you don't, your audience probably won't either. You want to see a range of videos that engage you and compel you to continue watching. If the demo reel you're watching doesn't elicit that kind of response, move on.
Are you ready to find your corporate video production company? 
In conclusion, consider this a primer on how to choose a corporate video production company. Many other questions will come up, and the more you ask, the more comfortable you'll be with the company you choose.
At Ball Media Innovations, we've worked with many different types of corporations and organizations. We have the experience to help you have a successful outcome. I'd be happy to share some of our videos with you. I'd also be happy to provide you with a cost estimate on your project - with no obligation of course. Learn more about our corporate video production services or click on the button below to contact us and get things moving.