WE HELP OUR CORPORATE CLIENTS
SHINE!
Since 2002 Ball Media Innovations is your best option when you're looking for corporate video production services. 
To our knowledge, BMI has South Florida's most experienced, educated, knowledgeable and creative crew members for corporate video production. Learn more about our team here.
We Create Custom Videos Solutions That Solve Your Business Challenges!
Ball Media Innovations is the ONLY video production company from Miami to Orlando that brings you this: Extensive business, marketing, and training knowledge, education, and experience.
OUR CORPORATE VIDEO PRODUCTION SERVICES
We're corporate video production experts! 
We're Uniquely Qualified to Produce Your Corporate Videos. Based on client feedback and our research, we believe that we have have more experience and success with corporate video production than any other Miami area corporate video production company.
Our Clients consider us a to be their strategic partners because we have in-depth business & training knowledge. We have a thorough knowledge of the concepts that go into making great videos for marketing, websites and social Media, training, corporate communications, operations, etc. We'll apply that to your videos, and with no additional fees, all within your budget.
CELEBRATING OVER 19 YEARS OF AMAZING CLIENTS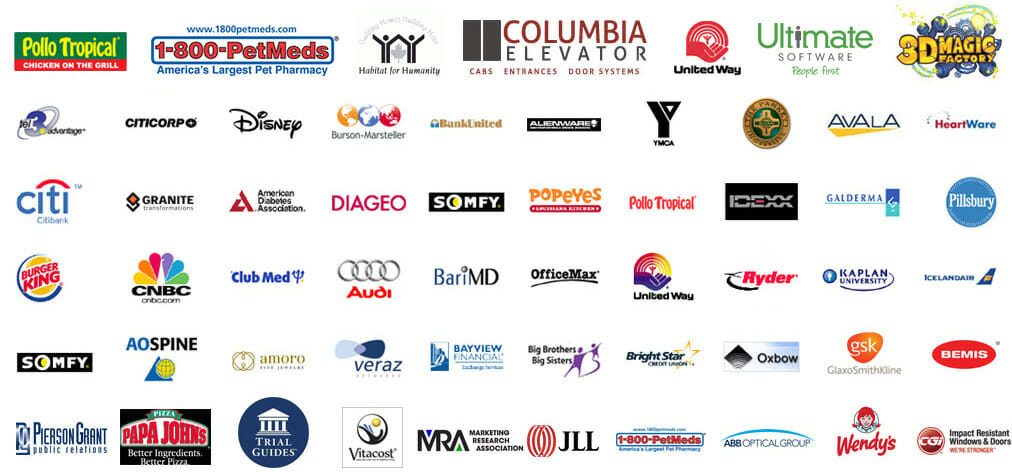 Our Video Production Clients Consistently Rave About Us!
You'll notice a big difference in your experience and in your resulting videos when you hire BMI for your Miami corporate video production. Not only do we know how to apply corporate and business theory to your videos, we're experienced working with executives and all levels of employees. Giving you outstanding customer service is something we don't skimp on.  Check out our customer service policies here. 
"Ball Media Innovations is a first-class company that has the 'we will do what it takes to be sure you are pleased' philosophy that is unfortunately rare to find these days... they are first-class professionals. Every product has been of the highest quality. I feel extremely comfortable recommending Ball Media..."

"The professionalism they showed was unsurpassed. They were a delightful group of people to do business with. Ball Media far exceeded my expectations in all areas... They made me feel at ease, did everything professionally, and without any stress or attitude... I look forward to doing future media projects with Ball Media."

"Greg and his team deliver a superior product at a value that can't be matched. Greg far exceeded my expectations with his professionalism and talent... He was able to pick up the project with little instruction and delivered exactly what we needed... I highly recommend Greg and Ball Media Innovations..."
Miami Corporate Video Production Specialty Crews, and more!
Our crews have extensive experience in areas such as medical video production, video production in a manufacturing environment, food and restaurant industry video production, etc. Our crews can shoot in almost any location in and around Miami, including your corporate headquarters, local offices, manufacturing plants, etc. We also offer crews in the Orlando area, throughout Florida, the nation and the world.
This all works together to make BMI your very best choice of Miami corporate video production companies! You'll see the difference in your videos, and you'll have a smoother, easier experience.
Read More About Why You Should Choose Ball Media Innovations.
Trust your Miami corporate video Production needs to us at BMI!