SOUTH FLORIDA VIDEO PRODUCTION SERVICES DESIGNED FOR YOUR

SUCCESS!
Are you looking for  competent video South Florida production services that you can trust? We're known as experts when it comes to business videography. We can help you whether you need a commercial, social media or web video, live event video or training video.  
No other South Florida company has the level of business  experience and training that we have. We will craft your video to help set you up for success. 
We Create Top-Quality Competitively Priced Videos That Can Convert Viewers to Clients, Train Them, Help Build Trust, bring In Website Traffic, etc.
Locally we support clients in South Florida & Orlando. Many of our services are available nationally such as editing and translation. We also partner with crewing companies so we offer national and international crews.
OUR SOUTH FLORIDA VIDEO PRODUCTION SERVICES
Video Production - Post Production - Drones - 2D & 3D Animation - Gimbals - Green Screen - Editing - Still Photography - Script Writing - Story Boarding - Translation/Dubbing/Subtitles 
In South Florida, we're the #1 video production company for businesses, as well as for the medical community. From the start of your project to the completion we can walk you through the process. You're welcome to get involved as much or as little as you'd prefer. We can handle small shoots to large multi-camera shoots. For more information visit here for details on our our South Florida video production services.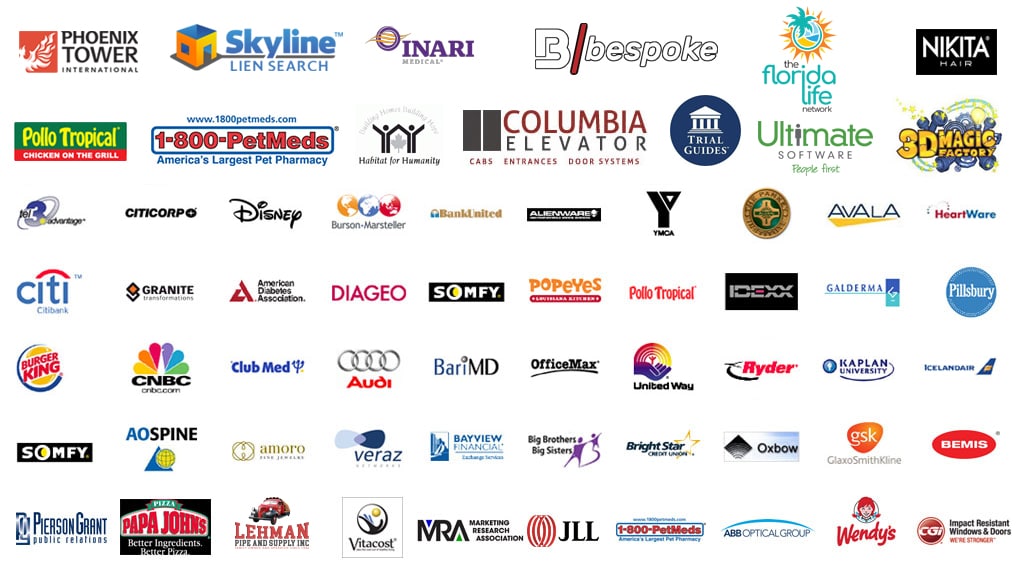 Want to know more about our SOUTH FLORIDA VIDEO PRODUCTION SERVICES? Click below. 
We Make Your Life Easier!
When you choose Ball Media, it's smooth sailing! That's because we support you with great customer service. That includes professional and friendly service, quick returns to your calls and emails, and always answering any questions you have. Above all, we give our all to make sure you're happy. This is why we receive so may glowing testimonials from a wide variety of companies and clients. Take a look at a few below.
"The professionalism they showed was unsurpassed. They were a delightful group of people to do business with. Ball Media far exceeded my expectations in all areas... They made me feel at ease, did everything professionally, and without any stress or attitude... I look forward to doing future media projects with Ball Media."

"Greg Ball and his team have produced several professional, customer focused videos for us in Florida. The projects were completed on time and on budget, and Greg and his crew were a pleasure to work with. I'm pleased to recommend Ball Media."

"It was an absolute pleasure to work with Greg Ball and Ball Media Innovations in the making of our Creating a Healing Society demo video. Greg is professional, honorable, and does work of the highest quality!"

"Greg and his team deliver a superior product at a value that can't be matched. Greg far exceeded my expectations with his professionalism and talent... He was able to pick up the project with little instruction and delivered exactly what we needed... I highly recommend Greg and Ball Media Innovations..."

"After searching the web and reviewing countless sample videos from different vendors, we liked Ball Media Innovations the best and hired them to film and edit our corporate video shortly after our initial meeting with Greg. Greg made us feel comfortable from the get-go and was always available to answer questions and offer suggestions along the way.We felt we got the best service and quality of work possible. Our new video is professional and easy to follow and will surely meet our goal of providing a great way for our customers to understand CGI and our manufacturing capabilities.

Ball Media provides exceptional value and I would highly recommend their services."
YOUR BEST CHOICE FOR SOUTH FLORIDA VIDEO PRODUCTION SERVICES!
Why can we say that? Out of all South Florida video production companies, Ball Media Innovations is the top one-stop-shop for businesses. That's because we can help you reach your goals with our more than 25 years of experience and knowledge. We offer the rare combination of technical know-how combined with business skills and creativity. Check out the background and history of Greg Ball, President of Ball Media. You'll see that we're uniquely qualified. For this reason, when you're looking for corporate video production services, no other company can compare.
Why Choose us? 
For over 19 years we've been designing videos. Specifically, videos that propel our clients' businesses forward and upward! In short, Ball Media Innovations offers you more value for your money. That's because of the skills, strategy, and experience we can bring to your projects. So we can help you reach your goals like no other South Florida video production company.
Our headquarters is in Pembroke Pines, Florida. That's right between Miami and Fort Lauderdale, so we serve all of South Florida. Also, we have video production crews in the Orlando area. Greg Ball, President of BMI often directs videos in the Miami, Fort Lauderdale, Palm Beach and Orlando, Florida areas. Call us for your South Florida video production services.
What else does our South Florida video production company offer?
Conference, Convention & Trade Show Videos: These shoots don't really require business knowledge, but they do require excellent shooting technique. Our people have many, many years of experience shooting live business (and medical) events. Whether they're shooting man on the street interviews or speakers on stage, they know exactly what to do to get great shots without interupting the events. Our crews also have great business manners. This makes them easy to work with. So, you'll enjoy the experience. And you'll be able to feel confidence that your shoot is going to go well.
Editing Services: One of the services we offer throughout the country is editing. We can create videos for your business using stock footage and/or animation. No video shoot required! Although we're based in South Florida, we serve clients throughout the USA with editing services. If you're interested in learning more, check out this article called "The Secret to Creating a Powerful Business Video Without Shooting Any Footage". Then you can check out our video editing services in detail.
Animated Explainer Videos: Looking for something different? A way to pull in viewers and separate from the crowd? Consider animation.
From script writing to animation creation, we love producing animated explainer videos. They're so effective and honestly, they're a lot of fun to make and to watch. Explainer videos are fantastic for sales and marketing purposes, and for training purposes. They can really grab the viewers attention and keep it. That's true for adults as well as kids. We create colorful animated explainer videos as well as cool whiteboard explainer videos.