#1 Company for Miami Video Production Services
for Miami - Fort Lauderdale - Palm Beach - Orlando
OUR MIAMI VIDEO PRODUCTION SERVICES WILL HELP YOU


REACH YOUR GOALS!
We're not your typical production company. At Ball Media Innovations we go well beyond what others do for you. That's because we have the right knowledge and experience to design business videos that work. And we have the most reliable and experienced crews around for live event videos. We're also medical videography experts. When it comes to Miami video production services, no other Florida company can give you the value we can.   
We Produce High-Quality Affordable Videos! Our videos effectively sell products & services, Train, build brand identity, create trust, encourage traffic, etc.
All company sizes are welcome! Our clients are small businesses, as well as mid-size companies and large international corporations & Fortune 500 companies. We also serve the medical community. 
GOING ON MORE THAN 20 YEARS OF BUSINESS (SINCE 2002)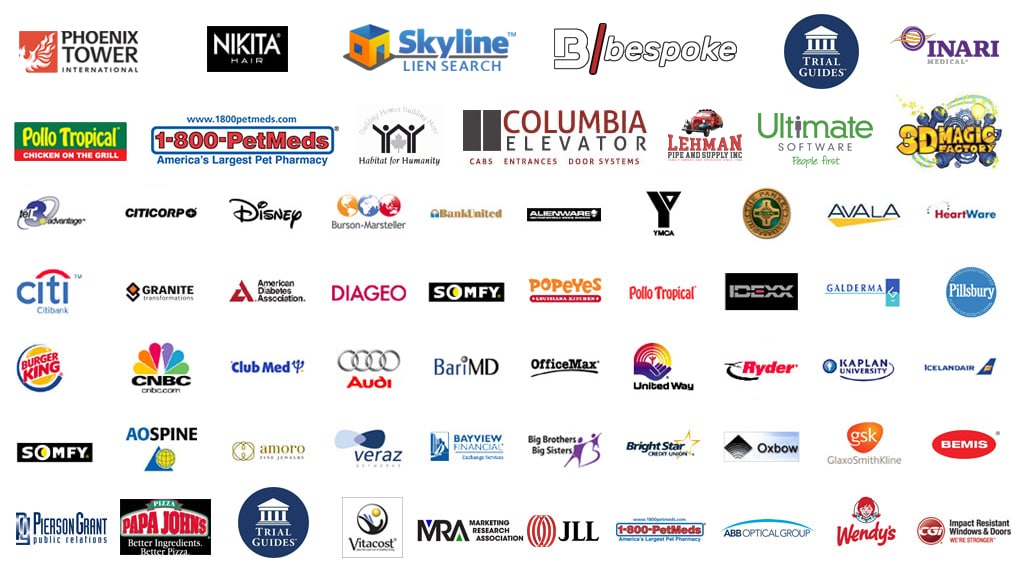 OUR MIAMI VIDEO PRODUCTION SERVICES
Are you looking for a one-stop-shop? That's us! From concept to creation, and even translation!
What is Our Process?
First, we'll determine what you're hoping to acheive through your video. Next, we'll check out your company, services and products, as well as your audience. Now it's time to create a plan for your video with your goals in mind, designed especially for you.
We'll let you know what we can accomplish for you within your budget. We'll keep in mind your objectives, your company values and culture, and your audience.
High-Quality & Reasonably Priced
There will be no surprises. We are transparent when it comes to pricing. We'll always keep to your budget range. At the same time you'll only have experienced crews, artists and technicians assigned to your project. And we work to always provide excellent service to all our clients.
We do it all for you including everything you need from concept to creation. We offer a variety of post production services. Take a look at our SERVICES OVERVIEW page for details about the services we offer.
WANT TO KNOW MORE ABOUT OUR SERVICES? 
Ball Media Innovations Consistently Gets 5 Stars
for our Miami Video Production Services!
Since 2002 we've consistently gotten big-time praise from hundreds of very happy clients. That's because of our focus on quality videos as well as great service. We want you happy and we give our all to make that happen. We do our best to always get back to you quickly, and to communicate effectively and efficiently. We're always professional and polite. All project sizes are welcome!
"We definitely recommend working with Ball Media and Greg's team for any of your video production projects! We are very happy with their work ethic and professionalism! ...With Ball Media, we found what we needed and exactly what we were expecting. Greg and his team could quickly adapt and adjust to our needs and help us make it happen.

...Ball Media makes the process easy and realistic. All of our different videos, requested with very short deadlines, were delivered with high quality and on time."

"The professionalism they showed was unsurpassed. They were a delightful group of people to do business with. Ball Media far exceeded my expectations in all areas... They made me feel at ease, did everything professionally, and without any stress or attitude... I look forward to doing future media projects with Ball Media."

"I've worked with many large media groups in the past but won't look further than Ball Media in the future. The quality, response, and collaboration was on par with larger companies as substantially greater value. Thanks Greg!"
Our Miami Video Production Services Can Help You Reach Your Goals!
That's because we have unparalleled business video experience and education as well. This is unlike any other video production company from Miami to Orlando.
Take a look at our Company founder and President. Before founding the company, Greg Ball ran the Burger King World Headquarters Global Video Communications department. He received training there in marketing, PR and training techniques. He also received business education through MBA level classes. 
Why does that matter to you? Greg can work closely with you and your team, to see that your video is as effective as possible. You can be sure that we'll design videos that you can be proud of.
Whether you want to share your story, sell products, train your viewers or capture an event, we can help. We do all this with no additional fees, and within your budget. 
Ball Media is considered to have the best business oriented video production services in Miami and Orlando, as well as the surrounding areas. Whether you're video is for marketing or training purposes, or live capture, we're the #1 choice.
Ball Media's Miami Video Production Services Specialties
Our video production company offers specialty crews consisting of people who have been in the field for years. You'll find that each member of the crew has many years working on projects in industries similar to yours.
For example, we have crew members that have worked on many industrial/manufacturing company videos. They've shot the processes and procedures at working plants, as well as product videos. They've even worked on in-house corporate communications videos.
All of our crew members have worked on more corporate videos than we can count. They're comfortable working with everyone from front line workers to CEO's.
Another area  of specialty that we have experienced crews in is the medical industry video. Our crew members can shoot everything from live surgical procedures to in-office procedures. They can also shoot for videos such as patient testimonials, office tours and doctor intros.
Ball Media offers crew members who are highly experienced with food industry and restaurant video shoots. Greg Ball, President of Ball Media ran Burger King's Worldwide Video Communications department for many years. He developed in the art of shooting food/restaurant related videos there. Over the years he's produced videos for a wide variety of restaurant and food related companies.
So when you're looking for Miami video production services, call Ball Media. We've got you covered!