Let Our Video Production Company
Produce Your Social Media Marketing Videos
Social media advertising plays a vital role in reaching today's customers. However, simple status updates are not sufficient to keep your customers coming back for more. Social media functions as an effective marketing tool in many ways and one effective method is the use of short, engaging videos. With the current high rate of internet speed and ease of access, the use of video with social media is a perfect fit. Done right, it can engage your target audience and bring you great results. You'll need the right video production company to help you.
Ball Media Innovations, Inc,  is a Video Production Company that specializes in creating high-quality videos perfect for putting your message in front of your social media audience in a compelling way. Several studies show that roughly 60 percent of online sales traffic begins with an online marketing video. So video is clearly a proven method for effective marketing.
With that much of an effect on potential profit, it is important to ensure that the videos you use are professional and effective. You need a video production company that can produce highly effective social media marketing videos, so choose your company carefully.
Social Media Video Production Quality is Important!
Your customers have access to thousands of videos online. Because videos are so readily available online, you need a Miami video production company, as experienced and proven as Ball Media Innovations, to help you create cut through the clutter. A high quality, well-designed video can share your message effectively, while moving your viewers to the desired action.
Consider that when you use a video to market or represent your company online, it should be of professional quality. At Ball Media Innovations you'll get high quality, well-designed videos. When considering the quality of an online video many things factor into the success of the video including lighting, sound, script, and flow. One simple thing to be aware of is that the viewing quality of the video is extremely important, and online video content should be high definition. While some users may not have access to high definition monitors, the better quality will still make a visible difference.
If you need competitively priced Miami Video production services and excellent quality, we would love to talk to you about your project. Our video production company has the experience and knowledge to handle all the elements that go into creating great social media videos. This can make the difference between your video being viewed and shared or ignored.
We have several articles that could make a big difference to the outcome of your future social media videos. Take a moment to read our video production company articles called:
Consider the Optimal Length of a Good Social Media Video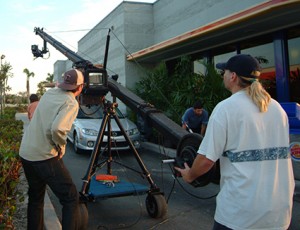 Here's a tip for you. In most cases, online marketing videos should be short.  People on social media sites are often looking for quick information. While the type of video will determine how long the video is, (instructional videos or interviews are longer) most online marketing videos should be only a minute at most. In fact, most online marketing videos should be about 30 seconds long.
You can put a lot of information into that short amount of time if you choose the right company to help create your video. Ball Media Innovations is the right Miami video production business for your video needs, whether they are quick snippets of information or longer length videos.
Content
Content is the king of online video marketing. Our Miami video production services include help with content. Because you only have a short amount of time to display your message, your content needs to be exact. A professional video production company such as Ball Media Innovations will be able to take your ideas and message to create hard-hitting content that is short but effective.
The right online content can draw more visitors to your websites and to your checkout counters. Videos are an excellent way to give people the information they need in less time. Instead of reading three paragraphs of content, a quick 30-second video can succinctly show your0 message and inform your customer.
As one of the best Miami video production companies, we want your videos to succeed. For more information about the types of marketing and promotional video production packages we offer, take a few minutes to explore our website.
And visit our Web Video Production page to learn more about our website video and social media video production services.
What's Next? Contact Us Now.
We'd love to talk with you about your training video production project. We'll be happy to give you ideas, and a free quote. If you're looking for a training video company, we're happy to chat! Call: